More everything! When airline food makes news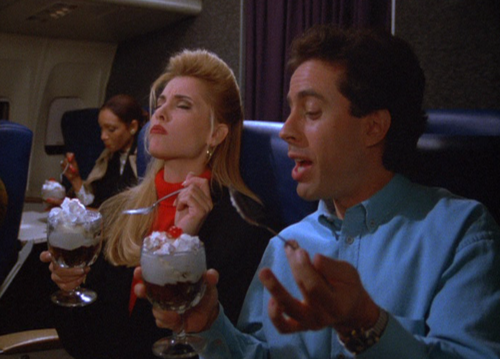 One of my favorite Seinfeld episodes is when Jerry finds himself in first class on a long flight. It lays bare the difference between economy and first class in a funny, yet painfully true way. And that was in the late 1990s. Let's just say things haven't improved much since then.
"More everything!," Jerry said when asked by the flight attendant if he wanted another ice cream sundae.
News broke this week that United Airlines would be upgrading its food and beverage options for economy passengers beginning June 1 for international flights.
That means those who are in steerage economy can now receive a free three-course meal on long haul flights, along with free wine and beer. Some other airlines, like Delta, have offered this for awhile now. I flew Delta in October to Europe and overall, it was a good experience. The four inches of legroom we bought for each of the two international flights was well worth the $89 up charge per person.
But let's face it, no matter how you cut it, unless you're sitting in one of those magical pods in the front of the plane that cost as much as an inexpensive used car (one way), air travel today is basically controlled, and contained misery. Still, it's nice to see the airlines at least attempting to make things a little better. But that it makes news at all illustrates how far things have fallen inside economy cabins over the years.
Matt Patterson
Matt Patterson has been with The Oklahoman since 2006. Prior to joining the news staff in 2010, Patterson worked in The Oklahoman's sports department for five years. He previously worked at The Lawton Constitution and The Edmond Sun.... Read more ›
Comments