Behold, the most dangerous anti-gun PSA ever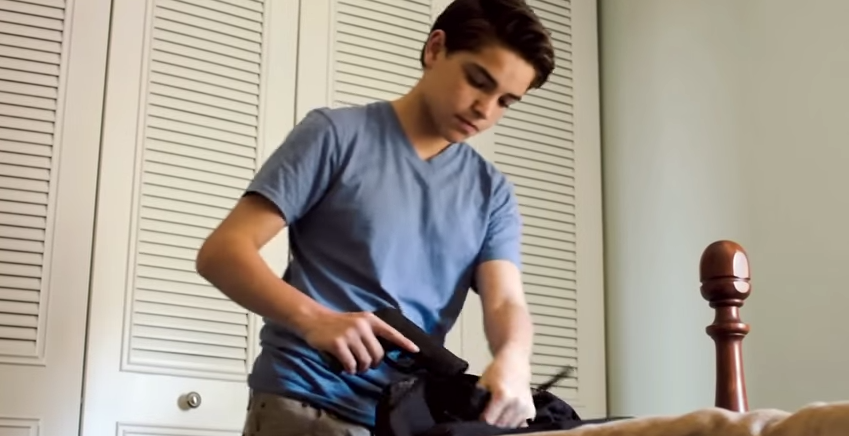 It doesn't matter what you feel about guns, you gotta admit this anti-gun PSA is dangerous.
Check out the PSA for yourself, and count all the problems you find in it:
For those unable to view it, the PSA shows a teenager take his mother's (presumably) loaded handgun from her dresser, put it in his backpack, take it to school and place it on his teacher's desk. He then says, "Can you take this away? I don't feel safe with a gun in my house."
Here are just some of the dangerous, irresponsible and illegal things presented in the PSA:
1. The teen steals his mother's firearm
2. The teen isn't practicing proper and safe firearm handling, as he keeps his finger on the trigger while carrying it to his backpack (yet shows proper trigger safety while placing the gun in the bag)
3. The teen illegally possesses a loaded firearm
4. The teen illegally transports a loaded firearm
5. The teen illegally possesses a loaded firearm on school property
6. The teen brandishes the firearm on school property
The creator of the video shows a severe lack of knowledge when it comes to the proper handling of firearms and laws surrounding firearms, and what we have is a video that promotes negligence and committing felonious acts.
And, because of this, the PSA loses all credibility and amount of effectiveness it could've had. It very easily could've presented the general idea (teenager doesn't feel safe with a gun in the house) by showing dialogue between the son and his mother, by showing the son approach his teacher to talk about what he can do, and so on.
The job of a PSA is to present a problem, create a call to action on how to address that problem and show an example of how to deal with the problem. Unfortunately this one misses the mark by encouraging the children of gun owners to deal with their worries in the worst way possible: Ignoring dialogue in favor of the poor decision to handle the firearm and take it to school.
I can't help but think that negligent and dangerous PSAs like this is one of the reasons the American public doesn't support gun control as much as they support gun rights, as reported by Politico.
Richard Hall
Richard Hall is an award-winning newsroom developer, editor and blogger for NewsOK. He was born in Austin, Texas, spent his childhood in southern California and has lived in Norman since 1999. He graduated from the University of Oklahoma in 2008. Read more ›
Comments