Options for dining out limited on Thanksgiving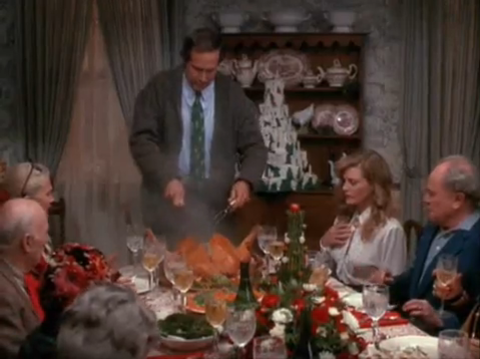 When Chevy Chase obediently pierced the skin of a fake turkey, releasing a hellish plume of smoke for "Christmas Vacation" he couldn't have known the gag would come to represent a turning point in his career. He needed a backup plan for his specific style of humor, er a good backup plan — one that didn't include a talk show or a premature exit from the one thing that resuscitated his marketability.
This is a convoluted way to explain that, no matter how good your intentions for making a Thanksgiving feast, be prepared for the worst by knowing what restaurants are open on Thanksgiving. Many of the best restaurants open on Thanksgiving are totally booked are close to it by folks who choose to dine out every year for Turkey Day, but if you do have a Clark Griswold moment, you won't starve. While the majority of Thanksgiving seatings are booked up, you can get on a stand-by list. Rococo still has a few seats available plus openings at the two bars. Legend's in Norman added a 5 p.m. seating by popular demand. Many restaurants in the Asian district will be open, but don't go to them looking for turkey and dressing. Dim sum, on the other hand…
Most cafeterias and 24-hour chain diners are open for some amount of time. Restaurants at full-service hotels will be open, and many places will open later in the day for those who need a place to drown away buyer's remorse.
I will be updating the list as new information comes available. Here's a list of places I know of that will be open:
Legend's Restaurant, 1313 W Lindsey, Norman, seatings at 11 a.m., 1 and 3 p.m. and 5 p.m., 329-8888.
Rococo Restaurant and Fine Wine (Northpark location only), 12252 Northpark Mall, 11 a.m. to 2 p.m., 212-4577.
Deep Fork Grill, 5418 N Western Ave., 11 a.m. to 10 p.m., prix fixe, 848-7678.
Ingrid's Kitchen, 3701 N Youngs, seatings at 10:30 a.m., 10:45 a.m., noon, 12:15 p.m., 1:30 p.m.; 1:45 p.m.; 3 p.m. and 3:15 p.m., 946-8444.
Echo Canyon Spa Resort in Sulphur, 5 to 9 p.m., quadruple entree special, (580) 421-5076.
Best Western Saddleback Inn, 4300 SW 3 St., 11 a.m. to 2 p.m., serving traditional Thanksgiving buffet, 439-1180.
Sooner Bowling Center, 550 24th Ave. NW in Norman, 5 p.m. to midnight, burgers, pizza and regular snack bar menu. Bowling reservations recommended.
O'Connell's, 769 Asp Ave. in Norman, 4 p.m. to 2 a.m., full menu.
Mackie MacNear's, five metro locations, 10:30 a.m. to 4 p.m., serving traditional Thanksgiving meal.
Grand House Asian Bistro, 2701 N Classen Blvd., 9 a.m. to 3 p.m., dim sum, 524-7333.
Embassy Suites Norman, 2501 Conference Drive, 11 a.m. to 1:30 p.m. and 5 to 10 p.m.; 364-8040.
Chequers Restaurant, 1009 S Air Depot, Midwest City, 11 a.m. to 4 p.m., 736-6944.
Szechuan Bistro, 1010 W Memorial Road, 11 a.m. to 10 p.m., dinner menu all day, 752-8889.
Skirvin Hilton Hotel: Park Avenue Grill, 1 Park Ave., breakfast buffet 6:30 to 10:30 a.m.; 11 to 2 p.m. prix fixe menu; 5 to 9 p.m. prix fixe menu and regular menu. Grand Ballroom, buffet, 10 a.m. to 2 p.m., 702-8444.
Arizona Grill, Interstate 40 and Meridian, 11 a.m. to 2 p.m., 946-3343.
Peacock Restaurant, 517 W Reno Ave., 11 a.m. to 1 p.m., serving traditional Thanksgiving fare, 278-7871.
Lottinvilles, 801 Signal Ridge Drive, Edmond, 10 a.m. to 3 p.m., Thanksgiving buffet, 341-2244.
Golden Phoenix, 2728 N Classen Blvd., regular hours and menu, closings at 6 p.m. 524-3988.
Vast, 333 W Sheridan Ave. (Devon Tower), 10:30 a.m. to 2:30 p.m., Thanksgiving buffet, 702-7262.
The R&J Supper Club, 320 NW 10 St., 5 p.m. to 2 a.m., regular menu plus Thanksgiving special, 602-5066.
Dave Cathey
The Oklahoman's food editor, Dave Cathey, keeps his eye on culinary arts and serves up news and reviews from Oklahoma's booming food scene. Read more ›
Comments